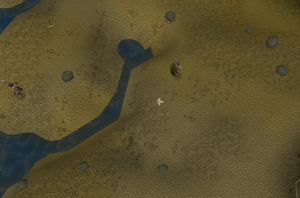 The beach to the North of
Rellekka
is a multi combat zone, full of Rock Crabs, Hobgoblins and item respawn points. The Beach is often the subject of
Outlander
training, seeing as how Rock Crabs have a high amount of health and can only hit up to 10. Outlanders can, however, be easily moved by attacking the same Rock Crabs as them which after a short while will result in them moving away or hopping worlds all together.
The Beach itself is the home of 20 Rock Crabs, 5 Hobgoblins, 2 Bones, 1 Iron Pickaxe, 1 Bronze Hatchet, 1 Sapphire, 1 Knife and 2 Nature Runes.
Creatures and Resources
Edit
Resources

Bronze Hatchet
Iron Pickaxe
Knife
Sapphire (Needs to be tele-grabbed)
Nature Runes (X2)
Bones (X2)
Ad blocker interference detected!
Wikia is a free-to-use site that makes money from advertising. We have a modified experience for viewers using ad blockers

Wikia is not accessible if you've made further modifications. Remove the custom ad blocker rule(s) and the page will load as expected.